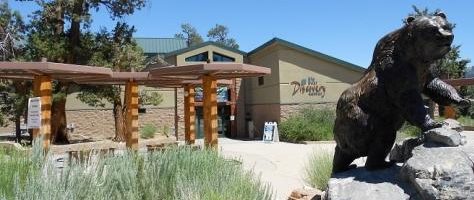 The Discovery Center is Temporarily Closed
The Big Bear Discovery Center will be temporarily closed beginning Monday, November 11, 2019 for renovations. It is anticipated to reopen in the summer of 2020.
During this time, forest information and Adventure Passes can be obtained at the Big Bear Visitor Center located at: 40824 Big Bear Blvd. Big Bear Lake, CA 92315 or visit  https://www.bigbear.com/travel-tools/visitor-center/.  There will be alternate locations for naturalist hikes and educational events. 
Check out the Big Bear Discovery Center Facebook pages for updates: https://www.facebook.com/BigBearDiscoveryCenter/
Adventure Passes can also be purchased in the area at 30 local businesses, which can be found in an online database:
https://www.fs.usda.gov/detai…/…/passes-permits/recreation/… (search for Big Bear and Fawnskin separately in the "Search all columns" box)
Wood permits can be purchased by appointment at the forest's headquarters in San Bernardino. Call 909-382-2600 during normal business hours (M-F, 8:00 a.m. to 4:30 p.m., closed on federal holidays) or by completing the Feedback Form on the Forest's Contact Us webpage:
https://www.fs.usda.gov/contact…/sbnf/about-forest/contactus
For more information on the renovations, click below: