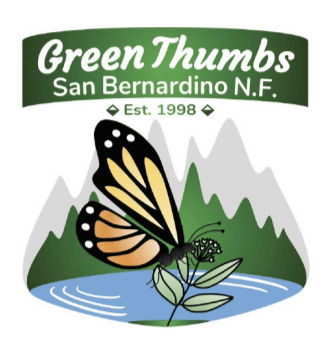 Green Thumbs Volunteer Events
The Southern California Mountains Foundation and San Bernardino National Forest restoration teams are joining together to host Green Thumbs volunteer events in 2023.
Please join our monthly volunteer events March – October 2023 to restore disturbed lands across the San Bernardino National Forest. All events will improve habitat for wildlife, plants, the Monarch butterfly, and other pollinators.
Activities may include collecting and dispersing native seeds, out planting of native species, slashing, barrier installation, nursery work, watering and restoration site maintenance and restoring illegal user created routes. Some events will require driving on USFS dirt roads. A high clearance vehicle is recommended, 4-whee/ drive not required.
Two weeks prior to each event, a flyer will be emailed to our volunteer mailing list with the project description, logistics and how to sign up. To add your name/organization to our mailing list, please contact Drew or Lisa.
Our 2023 volunteer events are designed with your safety in mind and will follow strict COVID-19 guidelines. Please sign up in advance. As part of our COVID-19 Safety Plan Pre-Registration is required and space is limited.
March 11th
April 15th
April 22nd
May 6th
May 20th
June 10th
June 24th
July 8th
July 22nd
August 12th
August 26th
September 9th
September 23rd- National Public Lands Day
October 7th
October 14th
FOR MORE INFORMATION PLEASE CONTACT:
Drew Farr
909-522-1363
drew.farr@usda.gov
Or
Lisa Underwood
lunderwood@mountainsfoundation.org